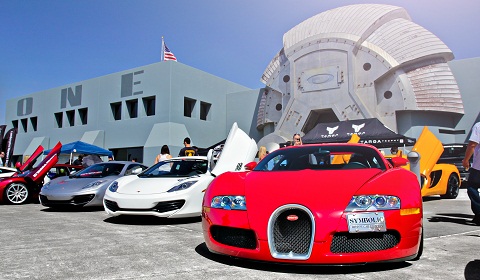 Yesterday saw the second Targa Trophy event of the year at the Oakley Sunglasses headquarters in Orange County, Los Angeles. Targa Trophy is a timed street legal road rally, participants travel from one place to another with checkpoints along the way hoping to reach the final destination matching the set time and distance run by a reasonable car, driven by a reasonable guy. Both speed and mileage are factors here.
David Coyne headed over to the event for us and snapped a few pictures of the Italian Car Show at the start line, and the participants headed out on the event. The organisers managed to get a Bugatti Veyron, a range of Lamborghini Murcielago's, Lamborghini Gallardo's, Ferrari's and Maserati's out for the day. The event sponsors, Lamborghini Newport Beach and McLaren Newport Beach also had various cars on display. An epic line of Nissan GT-R's also showed up.
You'll be able to find more photos on David's Facebook page and on his Flickr account.