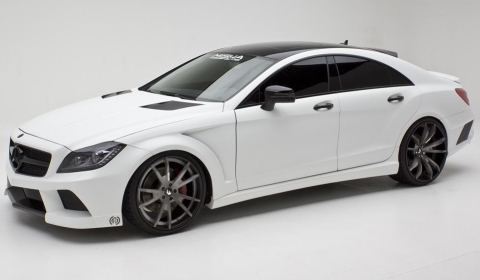 Misha Designs has released a new body kit for the 2011 Mercedes-Benz CLS model line up. The complete body kit is a direct bolt-on kit and is named CLS-M.
The kit includes an all-new front bumper with optional lower carbon fiber lip spoiler. The larger and more aggressive openings draw in more air to cool the engine of the Mercedes-Benz CLS. The hood has carbon fiber inserts at the top.
The fenders are wider and are functional drawing air out from behind the front tires. The side skirts flow smoothly into the new rear fender flares. The rear bumper comes with optional carbon fiber gills and a carbon fiber diffuser that helps channeling the air improving the downforce. The rear trunk and roof spoilers give the luxury car a more aggressive look.
The tuner from California also fitted a new set of black rims, but did not release the exact specifications of the wheel set.