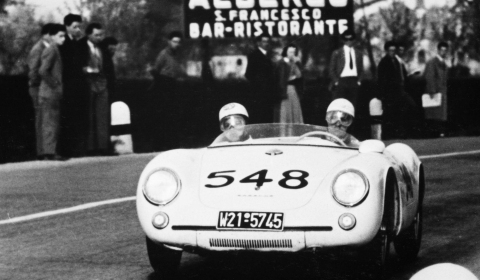 The Porsche Museum is covering the thousand miles of the Mille Miglia with its most impressive entry to date. The German sports car manufacturer will celebrate these achievements by showing two examples of the Porsche 550 Spyder, a 356 Speedster 1500, 356 Speedster 1600, 356 Speedster 1600 S and a 356 Coupé with V-shaped front windscreen, the so-called "Knickscheibe" (bent windscreen).
The Mille Miglia follows the course of the most beautiful roads from Brescia to Rome and back and is among the most important events in the calendar of the Porsche Museum in Stuttgart. The classic event, which is open only to cars of a type that competed in the race in period, remains a challenge for vehicles and drivers to this day because the 1,600 kilometer course is covered in only three days and typically in changeable weather.
The next major event on the Porsche Museum calendar is the Goodwood Festival of Speed, in Sussex, on June 28 – July 1, which will once again see a stunning selection of historic Porsche racing cars brought to the UK from Stuttgart.