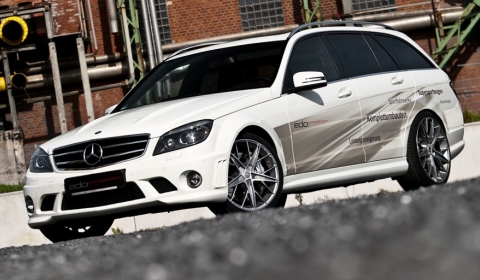 Edo Competition has released their program for the Mercedes-Benz C 63 AMG. It consists of a new high-performance exhaust system, exhaust headers, high-flow catalytic converters, new air filters, revised engine electronics and a removal of the top speed governor.
The result is an enormous power increase from the stock output of 457hp to 600hp. At the same time the torque output growns from 600Nm to 680Nm. A new soundtrack is provided by a new exhaust with butterfly valves. The high-performance exhaust system features a programmable electronic controller that monitors the level of back pressure and opens the integrated 70mm butterfly valves when a certain threshold is exceeded. The exhaust is made entirely from stainless steel and the chromed exhaust tips that mimic the factory pieces add to the car's styling.
The extreme speeds that the edo C 63 AMG T-Model is capable of require specific modifications to its wheels. The 19 inch Michelin high-performance tires allow for a top speed exceeding 340km/h. The 235/35 ZR19 front tires are mounted on 8.5Jx19 multi-piece wheels, while 265/30 ZR19 tires on 9.5Jx19 multi-piece wheels are used on the rear axle.
Throughout the cabin, carbon fiber applications have been used to enhance its esthetic qualities. On customer request the interior can be individualized using leather, cloth, fine woods or lacquer, high-quality metal applications or carbon fiber. Steering wheels, dashboards, center consoles, pedals, seats or even the whole interior can be customized.