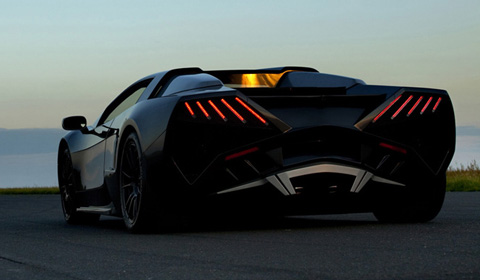 The company behind the Polish Arrinera supercar, the initiative in which Lee Noble has been involved, has revealed new information following its price and specification release about a week ago. A spokesperson of the Polish brand has told a Dutch journalist that the Arrinera is not yet finished for production.
Our project is currently in the preparatory phase and not yet ready for production. We still have to improve several technical aspects of the car. We are working on the design of the supercar. The supercar, visible in the pictures below, remains a prototype. The new shape will be more organic, muscular and aerodynamic. Within a few months, we will share the final design.
The production version of the Polish sports car will be ready by the end of this year. The first copies will roll off the assembly line in the second quarter of 2013. They have already taken orders. According to the spokesperson, the interest in the model is large. They have received emails and phone calls from people around the world and they are pleased with the number of potential customers.
The Arrinera will be powered by a mid-mounted 6.2 liter supercharged LS9 V8 engine which also powers the Chevrolet Corvette ZR1. This engine delivers a maximum output of 650 horsepower and 820Nm torque. The engine is paired to a six-speed gearbox by Graziano.
The car weighs only 1,300kg, so the power-to-weight ratio is 2.0kg/hp. Thanks to this, the Arrinera will accelerate from standstill to 100km/h in 3.2 seconds. The 200km/h barrier is passed in 8.9 seconds and the top speed is 340km/h.
The new supercar will be made in Poland. Pricing starts ₤ 100.000 excluding taxes, which equals € 116.740 or $ 160.060. Considering the specs and looks the Arrinera is relatively speaking a bargain. The first deliveries are expected later this year.