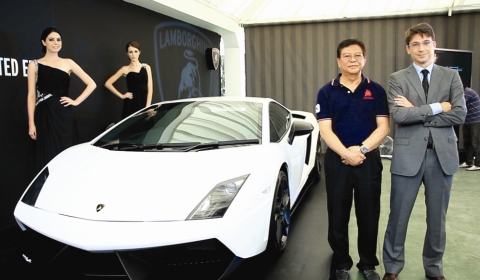 Recently, Lamborghini released the Lamborghini Gallardo LP550-2 MLE special edition for the Malaysian market. The Gallardo was released by JH Italia in collaboration with the Italian marque. JH Italia is the sole Malaysian Lamborghini dealer. The name 'MLE' stands for Malaysian Special Edition.
The Lamborghini Gallardo LP550-2 MLE obviously has the LP550-2 rear-wheel drive platform as its base. On top of this, Lamborghini will fit a Superleggera LP570-4 body kit including an aggressive front bumper, carbon fiber rear view mirrors, titanium exhaust tips and a carbon fiber rear diffuser. The models have to make do without the carbon fibre spoiler fitted to regular LP570-4's benefit from.
Only twenty examples will be produced. Lamborghini will tailor each car to the customer order. Customers will be limited to three colour choices; Bianco Monocerus, Verde Ithaca and Arancio Borealis. Interiors blend leather with alcantara. As it is essentially a Lamborghini LP550-2 underneath, the MLE gets the same 5.2-liter V10 engine with 550hp.
On the road, a Lamborghini Gallardo LP550-2 MLE will cost 1,680,000 Malaysian ringgits which at todays exhange rate, works out at 423,000 euros.
[Via FastMotoring]