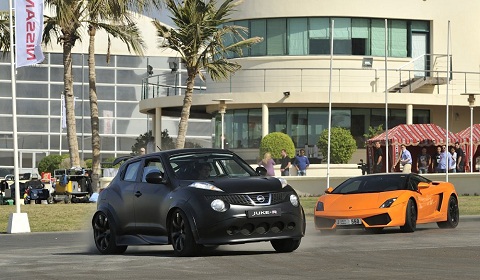 At the moment, only two Nissan Juke-R's exist. This is about to change as Nissan announced today that it had taken three orders for the blisteringly fast SUV. Two are said to have come from a "high-profile and well-respected member of Dubai society". It seems that the Juke-R won plenty of fans during its trip to the United Arab Emirates!
The Nissan Juke-R shares the same name as the Nissan Juke mini-crossover, however, the similarities end there. The body work is an extension of the Juke's with pumped up arches, extra air vents and a new spoiler to create downforce. It's almost unrecognisable!
Underneath, Nissan has used the Nissan GT-R chassis and powerplant to produce high performance levels. The Juke-R gets the same twin-turbocharged 3.8 liter V6, six-speed transaxle and four-wheel drive system. Power levels are set at 540bhp, the same as the current 2012 Nissan GT-R. The original Juke-R was built by Ray Mallock Limited with support from Nissan's Cranfield technical centre and its Paddington design studio.
For those looking to order a Nissan Juke-R, Nissan are taking orders for the next four weeks. Expect to pay a six-figure sum to secure one of the most insane mini-crossovers available. Deliveries start in the summer.
[Via Auto Middle East]