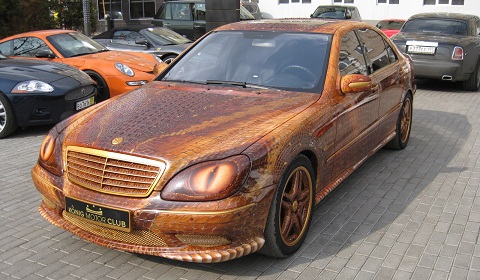 We spotted this Mercedes-Benz S65 AMG at Russian dealership Konig Motor recently. It definitely belongs in our overkill category. The wrap is of love it or hate it variety. It appears to replicate the look of a dragon, or at the very least, a snake of some variety!
In all honesty, it looks very well done. While the lights are impractical for use on the road, the design features the texture of reptile scales. The wrap covers the whole car, including the wheels, side mirrors and a new logo which replaces the Mercedes-Benz crest. It's certainly unique!
The Mercedes-Benz S65 AMG is a W220 model so it features a 6.0 litre twin-turbocharged V12 engine. Power figures are 612 hp a staggering 1,001 Nm of torque. It's a 2004 model with 77,700 km Konig Motor's want two million rubles for it (51,500 euros at todays exchange rate).
Like it, or hate it?