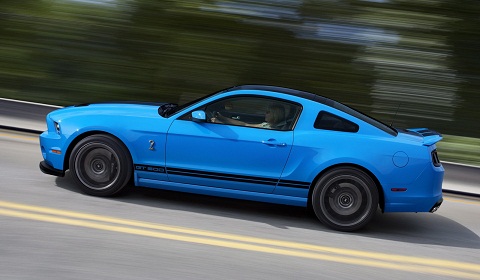 Ford has officially confirmed that the 5.8 liter supercharged V8 in the 2013 Ford Shelby GT500 is SAE certified at 662 horsepower and 631lb-ft of torque, 112hp more than the 2012 model.
The GT500 engine generates its massive thrust throughout its operating range with 395lb-ft of torque available just off idle at 1,000rpm. More than 90 percent of the peak torque is available from 2,200 to 5,800rpm.
The chassis has been tuned to absorb the road imperfections that can cause instability at high speeds. The revised front fascia and splitter help manage the flow of air around and under the GT500 so that it offers 33 percent more effective aero loading at 160mph compared to the 2011 model and feels more firmly planted.
The 2013 Ford Shelby GT500 will be built at AutoAlliance International Plant in Flat Rock, Mich.