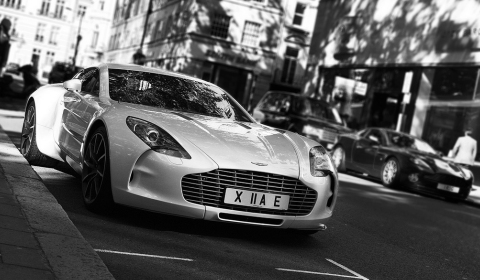 The news that Aston Martin have sold all 77 of the One-77 models comes as no surprise to us. While announcing that Aston Martin had turned a profit last year, Aston Martin's CEO, Dr. Ulrich Bez revealed that the One-77 had been a success. In the year ending 31st December 2011, Aston Martin managed to increase revenues by 7 percent up to $ 817.3 million thanks in part to interest by Chinese customers.
"Our 2011 results demonstrate the energy, passion and ongoing resilience of Aston Martin – a truly unique, independent manufacturer. We are on track with our expansion plans around the world, especially in China, and are investing in new models. The Aston Martin brand is stronger than ever. This is demonstrated by intense interest in the new V12 Zagato, recently shown at the Geneva Motor Show, and our $ 1.93 million One-77 supercar – all 77 of which are now sold," said Dr. Ulrich Bez.
Sales for the British brand hit 4200 vehicles last year including the 77 Aston Martin One-77 models. Aston Martin's next limited edition model, the Aston Martin V12 Zagato, will be delivered to 150 customers this summer. The Zagato model comes fifty years on from the introduction of the iconic DB4GT Zagato.
The Aston Martin One-77 features hand crafted aluminium paneling and a carbon fiber monocoque chassis. The engine, a naturally aspirated 7.3 liter V12 engine with 750hp, was the most powerful naturally aspirated engine ever to be fitted to a production vehicle. 0-100km/h takes just 3.5 seconds and top speed tests show that the car is capable of reaching 357km/h. It has been reported that one customer purchased 10 One-77's for each of his family members. Every One-77 is created bespoke to the customer.
The Aston Martin V12 Zagato will be powered by a 6.0 liter V12 engine producing 510bhp and 570Nm of torque. The car will be build on the chassis of the Aston Martin V12 Vantage. It continues a tradition of collaboration between the Italian coachbuilder and British supercar producer that has so far produced the DB4GT Zagato, V8 Vantage Zagato and DB7 Zagato. The V12 Zagato is being offered for sale at £ 330,000 (excluding taxes).
Hopefully Aston Martin can build on these successes when it comes to replacing its current aging model line. The DBS will exit production this year leaving the new Virage, DB9 and Vantage models as Aston Market's standard consumer sports cars. Then there's the Rapide and the Cygnet, both of which appear to be doing okay in terms of sales.
You'll find a registry of all the known Aston Martin One-77's here.
[Via AutoGuide]