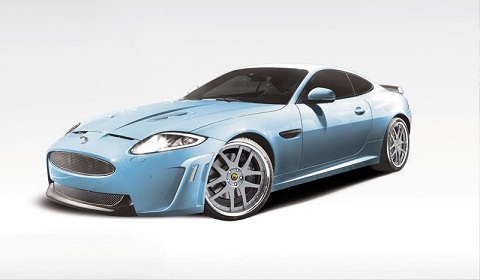 Arden have teased their latest project. This time the vehicle in question is Jaguar's XKR-S. Arden tells us that they've managed to extract 645hp from the Jaguar's supercharged 5.0 liter V8. That means an extra 95hp over the standard XKR's 550hp and an extra 65hp on top of the Arden Jaguar AJ75 announced previously.
The Jaguar XKR-S is the most powerful series produced by Jaguar yet! Its 550hp gives it just 1hp more than the iconic Jaguar XJ220 of the '90s. Modifications to the XKR-S include a new sports exhaust, sharper suspension settings and optimized ESP program to allow for a bigger tolerance. A new rear spoiler should improve down force and improve grip.
From the picture we can see that Arden will fit a new set of wheels alongside a few aerodynamic enhancements. Crudely placed on the front is the leaping Jaguar emblem. More details on this as and when they become available!