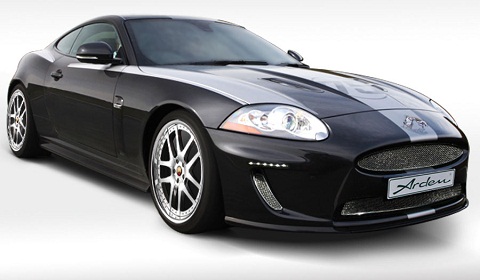 When Jaguar unveiled the XKR 75, the last thing they expected was for a tuner to get hold of their limited edition XK! Well, Arden have proved them wrong by offering an upgrade kit for the 75 XKR 75 models that will roll off the production line.
Upgrades include a power kit, taking the 5.0 liter V8 engine to 580hp and 720Nm of torque. This comes from a tweaked ECU and a high-performance sport exhaust system with sport catalysts. Top speed rises from 280km/h (174mph) to 305km/h (190mph) with 0 to 100km/h (62mph) taking just 4.3 seconds. Arden also offers what they call a "speedometer expansion kit".
Arden offers lowered suspension using firmer springs and a multi-part Arden Sportline wheel in the size 10×21 inch. Finally, the car is finished with handmade stainless steel grille inserts, daytime running lights and an Arden Jaguar hood ornament.
Whilst Arden have not disclosed the price, we suspect it will be significantly more than the £ 85,500 retail price of the serial XKR 75!