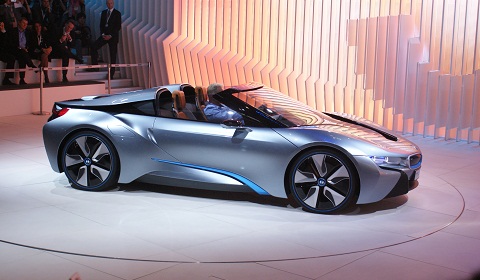 BMW presented the BMW i8 Concept Spyder at the Beijing Motor Show in China this week. The concept was unveiled at the beginning of the month before it went on public display in Beijing. The concept displays the eDrive emblem, a standard model identifier for all electric and plug-in hybrid cars from BMW i.
The BMW i8 Concept Spyder is a plug-in hybrid powered by a high-performance electric motor and a petrol combustion engine. The lithium-ion battery features 131hp and powers the front axle whilst a three-cylinder petrol engine sends 223hp to the rear. The whole system gives the driver 354hp and 550Nm of torque to play with, enough for 0-100km/h in five seconds and an electronically governed top speed of 250km/h.
The real headline figure is the three liters of petrol per 100 kilometers (or 94mpg) that the two-seater achieves. The electric motor takes just two hours to fully recharge via an ordinary domestic power socket. It will cover 19 miles or 30 kilometers on just the electric motor. Intelligent controls define whether power comes from the front, rear or all four wheels. A braking system similar to KERS has been employed too, making the most out of wasted electricity.
The i8 Concept Spyder has a slightly shorter wheelbase and overall length than its coupe variant. It gets the same upward-swivelling, windowless doors and a transparent glass panel at the rear. It also features the Modular LifeDrive architecture with a carbon-fibre-reinforced plastic passenger cell and an aluminium powertrain, chassis and safety structure. The design of the body panels minimises drag and enhances efficiency of shape.
The technology incorporated into this concept will be offered on all eDrive vehicles. The electronic motor is developed in-house by BMW with the aim of offering a substantial increase in range, power and economy for all vehicles that wear the eDrive badge.