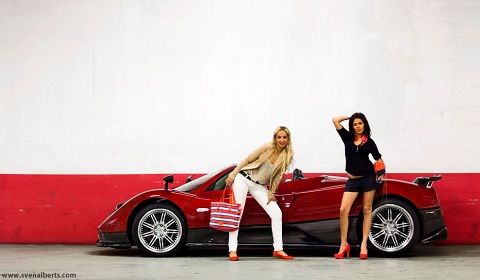 The tiny principality of Monaco plays host to a number of automotive events over the coming months. The festivities kicked off last weekend with Top Marques Monaco 2012 and will continue right up to the Monaco Grand Prix, due to start next month. Couple this with a ratio of millionaires and, as you would expect, the streets are paved with supercars like the Pagani Zonda S.
It seems though, that not everyone is quite so happy to see this. Take for example the Monaco national guard. It seems that last week they took the opportunity to crack down on heavy acceleration in the tunnel that forms part of the Grand Prix circuit. This Pagani Zonda S fell foul of the rules, receiving a ticket for unnecessary acceleration leading up to the tunnel.
We hear that a KTM X-Bow, a Lamborghini Aventador and a Hamann Hawk also got the same treatment. In the video below you'll see the Pagani Zonda S being pulled by the police officer. The video also features a surprise appearance from a 1929 Bugatti Type 40A Gran Sport!
Our second video shows you the true playboy lifestyle such a car in such a place presents. The owner leaves Casino square with not one, but two ladies sharing the Pagani's single passenger seat. If that in't rock and roll, what is?
Interestingly, despite being the second smallest country in the world, Monaco is the most densely populated. This is due largely to the non-existent levels of income tax for everyone except the French! Monaco enjoys the lowest crime rate of any country and the highest Gross Domestic Product of any other country. Much of the money for public amenities comes from the Casino and tourism. Interestingly, Monaco's citizens are not allowed to gamble in the Casino!
[Picture by Sven Alberts]