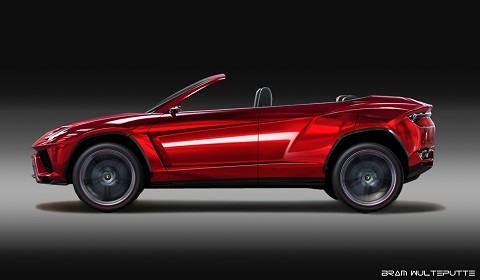 The Lamborghini Urus Concept is yet to be released. That hasn't stopped a rendering of a Lamborghini Urus Cabriolet being produced! Belgian designer Bram Wulteputte has removed the roof from the Lamborghini Urus, creating an interesting concept, along the lines of the Range Rover Evoque Convertible!
Don't expect to see the Lamborghini Urus Cabriolet any time soon though. The Lamborghini Urus will not be produced until at least 2015. The Lamborghini Urus will be unveiled in concept form at the Beijing Motor Show on Monday. Lamborghini officials will probably then guage the reaction and make a decision about a third model for the Italian supercar maker. The choice will be between the Urus and the Estoque.
Expect the Lamborghini Urus to share the Gallardo's V10 with an output of 575hp. We expect any production version to be built on the platform for the Audi Q7. It gets 24 inch carbon fiber wheels which hide carbon ceramic disc brakes. Inside, the seats are inspired by those seen in the Sesto Elemento Concept shown at the 2010 Paris Motor Show. The cabin gets plenty of carbon fiber trim and a high center console that extends between the two rear passengers.
Keep checking back for more details of the Lamborghini Urus Concept as and when they are released!