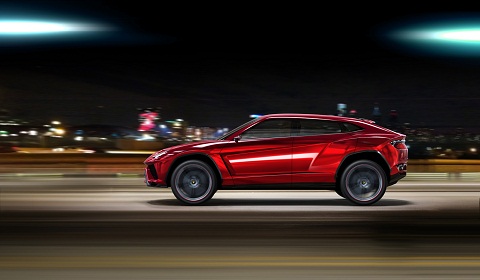 It seems that Lamborghini have let slip with their SUV Concept after the photos of a Lamborghini Urus Concept hit the web a few hours ago. The Lamborghini Urus is due to be officially unveiled on Monday at the Beijing Motor Show. The images show a car that borrows heavily from the current Lamborghini styling cues. The four wheel drive SUV doesn't share a resmblance to the Lamborghini LM002 though!
At the front, we see a set of large air intakes, initially a feature on the Reventon but also used on both the Estoque concept and the range-topping Aventador. Thanks to a design line angled windows, the rear looks compacted, creating a classic Lamborghini wedge inside a tall structure. This is not unlike the Range Rover Evoque.
Underneath, many are expecting the Gallardo's V10 with an output of 575 horses. However, with no official announcement, other options such as the V12 and the Volkswagen W12 could be possibilities. It gets 24 inch carbon fiber wheels which hide carbon ceramic disc brakes. The diffuser hides quad exhausts and the concept gets cameras for mirrors, we don't expect to see this on the production model.
If Lamborghini do decide to produce this concept, expect to see it on the roads by 2015. Stay tuned for more details!
[Via Autoforum.cz]