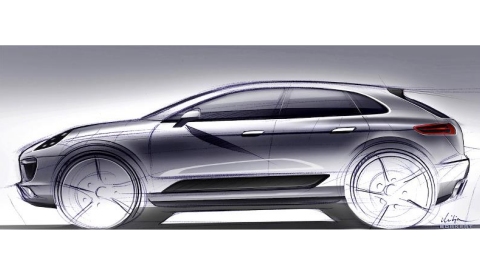 More news regarding the upcoming Porsche Macan ‒ formerly known as the Porsche Cajun ‒ has emerged. The name Macan is derived from the Indonesian word for tiger. The Macan is based on the Audi Q5 and will be produced alongside the Panamera and the Cayenne in Leipzig, Germany in a newly extended factory.
The most powerful version of the compact crossover SUV will be powered by new twin-turbocharged 3.0 liter V6 which puts out an impressive 370bhp and 540Nm of torque. The power will be routed to all four wheels via a standard seven-speed manual or an optional seven-speed, dual-clutch PDK automatic transmission.
With these figures the turbo-badged variant of the Macan will more powerful than its rivals like the BMW X3 and Range Rover Evoque. In addition to the top-of-the-line Turbo variant, Porsche is also working on a four-cylinder engine which is likely to generate about 220bhp. To fill in the gap between the four cylinder and powerful turbo there will be an S model powered by a 3.6 liter V6 featuring 295bhp.
Another four-cylinder engine is in the pipeline as well ‒ a diesel powered 2.0 liter turbo with 190bhp and a fuel consumption of 6.3 liter per 100km. Furthermore the 3.0 liter V6 turbodiesel with 250bhp from the Panamera will complement the range of engines. It's also rumoured Porsche is interested in Audi's latest 309bhp twin-turbocharged 3.0 liter V6 engine, which is currently in use by the Audi A6 and will propel the upcoming SQ5.
Last but not least, a Macan hybrid will join the family. This green model will feature the same drivetrain as the Audi Q5 Hybrid, a turbocharged 2.0 liter four-cylinder mated with a electric motor with a combined output of 241 horsepower. The smaller brother of the Cayenne will hit the showrooms in the Autumn of 2013.