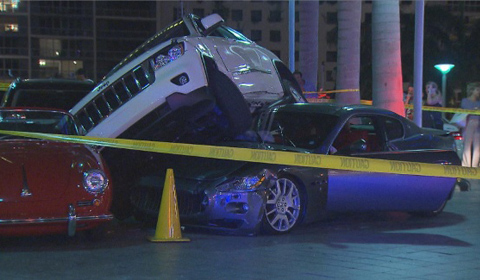 A remarkable incident occurred ‒ involving a Jeep Grand Cherokee, Mini, Maserati GranTurismo and a classic Porsche 356 Speedster ‒ last night outside the Epic Hotel in Miami, Florida.
According to witnesses, the Maserati was coming down too fast from the ramp of a parking garage. The driver of the luxurious Italian GT lost control over his car and drove it underneath the SUV.
Thankfully everyone escaped without injuries. But undoubtedly the local authorities as well as the insurance companies will start an investigation regarding the responsibility of the drivers involved.
[Via Jalopnik, picture via Local10]