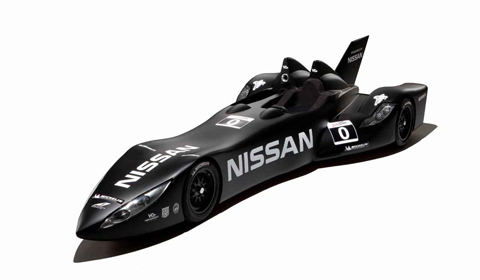 Nissan has released the first of a series 'behind-the-scenes' films featuring the development of the revolutionary DeltaWing racecar. The innovative project is scheduled to enter the 24 Hours of Le Mans in June.
The DeltaWing is unlike any other racing car currently on track. The driver sits well back in the car, almost over the rear axle and looks ahead down a long, narrow fuselage to specially created narrow twin front tyres. With a rear-mounted engine, the car has a strong rearward weight bias, which makes it highly manoeuvrable, while its light weight and slippery shape make it far more efficient.
The DeltaWing is powered by a Nissan 1.6 liter four-cylinder engine, featuring direct petrol injection and a turbocharger. The engine, badged DIG-T (Direct Injection Gasoline – Turbocharged), generates around 300 horsepower. This amount of power should be sufficient for the innovative car, because with an weight of 475kg the DeltaWing weighs half as much and has half the aerodynamic drag of a conventional racer.
The Nissan DeltaWing will start as the 56th and final entry in this year's Le Mans 24 Hours on June 16-17. The 56th spot is reserved for a technologically innovative car to participate "outside the classifications" – a vehicle showcasing new applications and unique technologies previously unseen in the world's greatest endurance race.