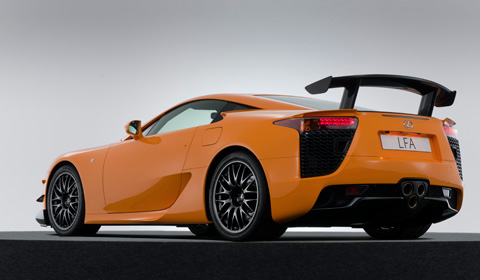 The first European Lexus LFA Nurburgring Edition has been handed to its new owner in the UK. The owner ordered an Orange LFA Nurburgring Edition with a black interior. This news follows after earlier news was released two weeks ago that two of the limited series landed in the US and Bahrain.
The Lexus LFA Nurburgring Edition is limited to only fifty pieces. It includes enhanced aerodynamic performance and improved high speed downforce thanks to a larger front spoiler, fin-type side spoilers, a canard fin, and a fixed rear wing. Power has increased by just 10hp to just over 570hp, enough to ensure that the LFA maintains its acceleration time of 0-100km/h in just 3.7 seconds and a maximum speed of 325km/h. The maximum torque is 480Nm at 7,000rpm.
The Lexus LFA Nurburgring Edition is available only in matte black, black, white or orange. The interior only gets three colour schemes, black and red, black and purple or all black.