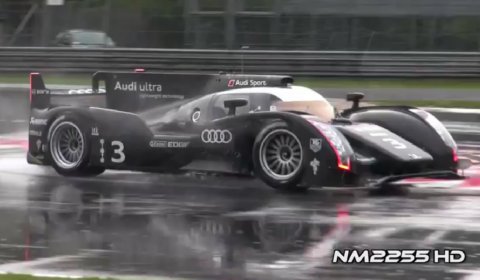 Via YouTube member NM2255 and 19Bozzy92, we came across these two videos showing an official Audi R18 LMP1 test at Monza race track, where the Germans tried the brand new Audi R18 Ultra in rainy weather.
The R18 Ultra is one of the two LMP1 models which Audi will race in the 24 Hours of Le Mans on June 16-17. Two Audi R18 Ultra sports cars (Number 3 and 4) and two Audi R18 E-tron Quattro sports cars (Number 1 and 2) will be entered in the endurance race.
The R18 Ultra is based on the model that won the 2011 edition of the race in France. In this video you can see and hear the car in action with lots of accelerations and fast fly bys!