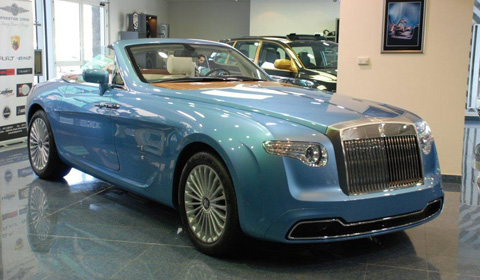 One of the most exclusive Rolls-Royce's ever built is currently listed for sale as the one-off Rolls-Royce Hyperion made its way to a showroom in Abu Dhabi.
Based on the Rolls-Royce Phantom Drophead Coupe, the Hyperion has been commissioned by British car collector Roland Hall. The car was designed by Jason Castriota, who is also responsible for cars like the Ferrari P4/5, Maserati GranTurismo, SSC Tuatara and Bertone Mantide.
The Hyperion was launched at the Pebble Beach Concours d'Elegance back in 2008. In 2009 it was offered for sale for a whopping € 4,500,000 and in 2010 we saw it again at the Top Marques Monaco show. One year later, the coach built Rolls-Royce Drop-Head made an appearance at the Dubai Motor Show.
All the time this car was being offered for sale, and apparently the one-off didn't gain much interest. So now the Rolls-Royce Hyperion has emerged in a showroom in Abu Dhabi where it is for sale at an undisclosed price.
[Via Prestige Cars and Carscoop]