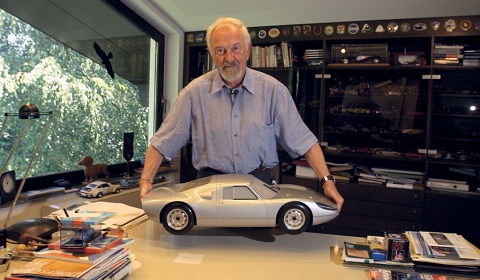 Ferdinand Alexander Porsche has died at the age of 76. He was the grandson of the car firm's founder, famed designer of the Porsche 911 and founder of the Porsche Design Studio. He died yesterday in Salzburg, Austria, the cause of death is unknown.
While Ferdinand's father and grandfather were the engineering brains of the Porsche business, Ferdinand focused on design work more than anything else. He started his training in 1957 with the family business after being dismissed from the Waldorf School in Stuttgart.
When it came to replacing Porsche's 356, Ferdinand came up with the design which was later approved by his father and became the Porsche 901. This was later renamed after intervention from Peugeot who had trademarked the name. It then became the Porsche 911. The basic shape is still around today in its seventh generation!
Ferdinand continued to work in the Porsche design department penning the Porsche 904, a car he considered to be his favourite design. It debuted late in 1963, for the 1964 racing season and enjoyed a modestly successful run. They eventually produced 106 car at a price of $ 7245.
Ferdinand then left his home at Porsche and created Porsche Design Group in response to a shift in company control that decided family should be kept out of managing the company. He started producing wristwatches and later, when the company grew it created all sorts including TV's and kitchens! Ferdinand also penned design studies for trains, a motorcycle, several bicycles and a slightly dolphin-shaped racing boat called Kineo.
From 1990-1993 he served as chairman of the Porsche AG board. Helping guide the company through tough times. Porsche CEO Matthias Müller paid tribute to the 911 creator, saying in a statement that he "founded a culture of design in our company that distinguishes our sports cars even today."