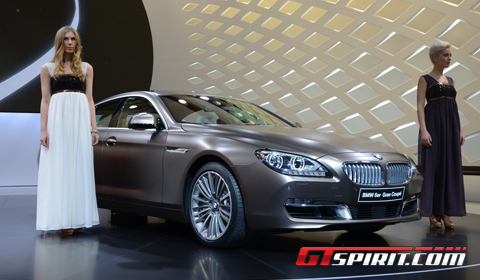 BMW has announced pricing for all models of the new BMW 6-Series Gran Coupe at a press conference during the New York Auto Show. The 2013 640i Gran Coupe powered by an uprated version of BMW's award winning 3.0 liter TwinPower Turbo Inline-six engine will be the first to arrive at BMW Centers in the US.
The 640i Gran Coupe goes on sale in late June with an MSRP of $ 76,895. Later in the summer, the twin-turbo V8 powered 2013 BMW 650i Gran Coupe and the all-wheel drive 2013 BMW 650i xDrive Gran Coupe will join the range. These models will be priced at $ 87,395 and $ 90,395 respectively. All prices include the $895 Handling and Destination charge.
The BMW 6-Series Gran Coupe is a new four-door, 4+1 seat addition to the 6-Series line that combines the stunning proportions, design and driving dynamics of the 6-Series Coupe with interior room and amenities for up to five passengers.
More on the BMW 6-Series Gran Coupe right here!