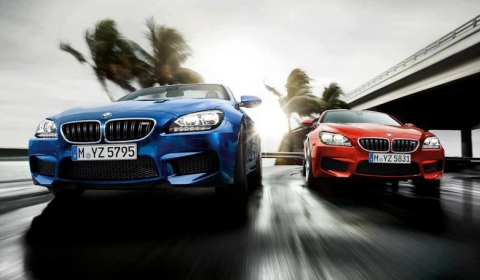 BMW announced pricing for the all-new BMW M5 and BMW M6 at a press conference on the occasion of the New York International Auto Show. The 2012 BMW M6 Convertible will be the first of the three new M cars to arrive in US BMW Center showrooms. The M6 Convertible arrives this June and will be priced at $ 113,995, including $ 895 Destination and Handling.
The 2013 BMW M5 and 2013 BMW M6 Coupe will arrive in late summer and will carry Manufacturer's Suggested Retail Prices of $ 90,695 and $ 106,995 respectively. This is including destination and handling.
BMW also announced the pricing for a refreshed BMW X6 M that arrives in BMW Centers in May. The 2013 BMW X6 M will sell for $ 93,795, also including destination and handling.
The M5 and M6 models are all powered by the most powerful engine ever fitted in a series-produced model from BMW M GmbH – a high revving 560hp M twin turbo V8 mated to a high torque seven-speed M-Double Clutch transmission (M-DCT).
It is all connected to an Active M Differential which optimizes power transfer between the rear wheels ensuring the engine's performance is transferred to the ground. The new engine produces around ten procent higher output than the V10 engine of its predecessors and torque is up by over thirty percent.