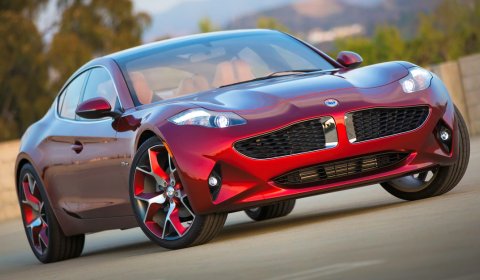 Fisker Automotive has officially unveiled its all-new model, the Atlantic sedan, ahead of its debut today at the New York Auto Show. This is the latest model in the company's line up of extended-range luxury electric cars.
Revealed as a design prototype at a special VIP preview event last night, the Fisker Atlantic design prototype is a luxury four-door sporting sedan with a practical interior. It is aimed at young families who want to drive an impactful, high-end vehicle.
The Atlantic uses the latest second generation EVer (Electric Vehicle with extended range) technology. It will offer all the benefits of electric drive while at the same time eliminating the "range anxiety" experienced with an all-electric powertrain.
Like the Karma sedan, the Fisker Atlantic is a plug-in series hybrid vehicle that allows drivers to switch manually or automatically between electric and gasoline driving modes and sustain the charge of its lithium ion batteries on the move.
Its four-cylinder gasoline engine acts as a generator and is not mechanically connected to the wheels. The standard powertrain will be configured for rear-wheel drive and an all-wheel drive version will be offered as an option. The Atlantic design prototype's glass roof shows off a ridged 'spider' structure.
The Fisker Atlantic's dimensions are comparable to those of an Audi A5. More details on the Fisker Atlantic, including statistics, prices and an on-sale date will be given closer to the launch of the production car.