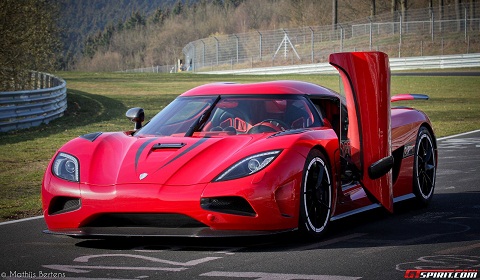 Our second photo set from the Gran Turismo Nurburgring 2012 event comes from Mathijs Bertens of MB Media. He captured registration as well as the track day yesterday where a photoshoot was arranged with the two Koenigsegg's on an empty Nurburgring!
Again, MB Media's photographs are stunning. They capture a Lorus 2-Eleven, a Porsche GT2 Racer and a Lamborghini Blancpain Super Trofeo all lapping the infamous green hell. Interestingly, the detail on the side of Koenigsegg Agera R reveals that this particular car was the one that set the record 0-300-0 km/h run of 21.19 seconds. We wonder what lap times it has been setting!
Together with Dennis Noten, Mathijs had the opportunity to photograph the Koenigsegg Agera R and Koenigsegg CCXR at an empty Nurburgring Nordschleife yesterday morning. They stopped at various locations along the 21 kilometer circuit to shoot both Swedish hypercars.
Gran Turismo Nurburgring 2012 started on 2nd April and runs through to the 6th. Both newcomers and more experienced drivers were welcome to Gran Turismo's flagship event. The whole track has been made available for three days of Gran Turismo trackdays, no buses, no tourists, no motorcycles, not traffic!
Check out his Facebook page, Mathijs Bertens also shoots for RPM Vision.