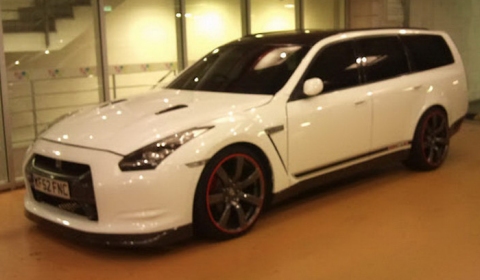 Via Carscoop we came across these two photos of a station wagon with the looks of a Nissan GT-R. The pictures were made by a local person from Portugal, who spotted the car in Porto. The photographer said:
I spotted a Skyline GTR SW, in the parking lot of a shopping center, in Porto, Portugal, on the last day of Portuguese run of the WRC 2012. The license plate isn't clear but seems British. It isn't Portuguese, that's for sure.
The car may look like a Nissan GT-R Station Wagon, but underneath this body work you will find a JDM Nissan Stagea estate, which in original form, shares its gear with the Skyline sedan and the Infiniti M35.
The owner of this creation used the wheels, side fenders, rear lower splitter with corresponding exhaust end pipes and the front bumper of Godzilla to create a look-a-like Nissan GT-R in the shape of a station wagon.