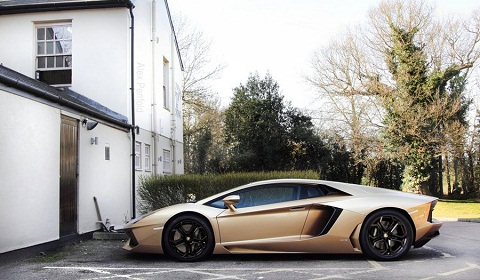 The Lamborghini LP700-4 Aventador has been on sale now for over a year. We've now seen every variation of standard and option exterior colours so we thought, naturally, it's time someone collated them all! So we've included a gallery of every standard and option colour Lamborghini LP700-4 Aventador, plus a few that look like they were special order!
The Lamborghini LP700-4 Aventador got a new 6.5 liter V12 engine that produces 700hp at 8,250rpm and 690Nm at 5,500rpm. Lamborghini used a carbon fiber monocoque with an aluminium subframe, produced in-house by Lamborghini with help from Boeing and the University of Washington. 100km/h is reached in less than three seconds, 200km/h in 8.9 seconds and a top speed of 217mph makes it one of the fastest supercars on the market.
Of course, Lamborghini offer a range of colours to fit such an extreme car. Whilst only thirteen colours are officially listed in Lamborghini's brochure, the Ad Personam program makes pretty much any colour a possibility! You'll see in the gallery that the examples of the two standard colour options are both there. They are Nero Aldebaran (a solid black colour) and Giallo Evros (a solid yellow colour). Nero Aldebaran has proved popular with owners, whilst Giallo Evros has been spotted a number of times too!
The most popular colour, Bianco Isis (solid white), is an option colour. Being the only other solid option colour, many people have specced this with painted black wheels. The next group of colours are the Metallic options. These include Nero Pegaso (metallic black), Grigio Estoque (metallic grey), Grigio Antares (light metallic grey) and Blu Hera (a dark metallic blue). We're rather partial to Grigio Estoque, however, Nero Pegaso is the most popular in this group.
Next up is the pearl effect colours. These include three shades, Arancio Argos (somewhere between orange and red), Arancio Atlas (orange) and Gialo Orion (a washed out yellow look). These colours look different in different lights which makes it difficult to pick them out in different lighting conditions. The final set are all matte effect.
Three shades are included in this final set; Nero Nemesis (matte black), Bianco Canopus (matte white) and Marrone Apus (very similar to to Nero Nemesis, except with a hint of brown). Obviously, these require a large amount of looking after, so they are mostly chosen by those who really prefer the matte look. With the standard colours out of the way, we can now talk about the non-standard options.
We start with the 'Al-Thani' blue versions. At least that's what we think is written on the paint tin over at the factory. At least two of these exist, neither of them in Dubai! Two gold coloured cars have been spotted, one in the UK. Others include Balloon White, once popular on the Gallardo, Red and Monterey Blue. Interestingly, we don't think green was a standard factory colour and matt green definitely wasn't! Finally, you'll see the a couple of wraps, a few stripes and a Lamborghini LP700-4 Aventador taxi!
Credits for the photos go to Grand Est Supercars, Eccentric M, BTYZ, ToeKneeFotographia, Skiraki Photo, AlexPenfold, Infinity and Beyond, G.R. Bispo, Stephan Bauer and Dennis Noten! If we've forgotten anyone (or any colour), please let us know!