The 1938 Bugatti Type 57 and the 1962 Ferrari 330 LM took home the Best In Show honors last weekend at the 17th annual Amelia Island Concours d'Elegance. The event attracted about 23,000 spectators and 295 vehicles.
The coveted Concours d'Elegance award went to the 1938 Bugatti Type 57, owned by the Off Brothers Collection from Richland, Mich. One of only three surviving Aravis Drophead Coupes bodied by Gangloff, this green Type 57 arrived in the U.S. in 1961 and was fully restored in 2009. Bugatti produced the Type 57 between 1934 and 1939, ceasing production of the world's fastest stock production car shortly after the beginning of WWII.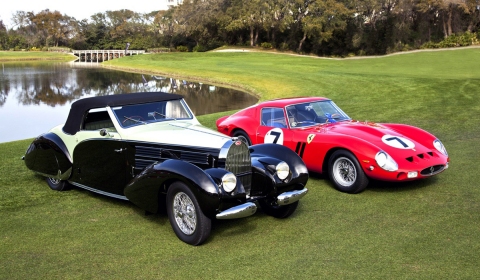 The rare 1962 Ferrari 330 LM, or "3765" GTO, owned by Jim Jaeger from Indian Hill, Ohio took home the Concours de Sport award. The 330 GTOs were Ferrari's in-house hot rods: prototype Grand Touring cars with four-liter V12 engines instead of the GTO's traditional three-liter V12. Just two were built – a cross between a pure prototype and a road-going Grand Touring car. Assigned to Ferrari Engineer and racer Mike Parkes and factory F1 and sports car ace Lorenzo Bandini, Jim Jaeger's four-liter GTO appears as it did on June 23, 1962 when gridded seventh at the 24 Hours of Le Mans.
Plans for the 18th annual Amelia Island Concours d'Elegance are already underway and the event is scheduled to be held on March 8-10, 2013 between the 10th and the 18th Fairways of the Golf Club Amelia Island at Summer Beach adjacent to The Ritz-Carlton, Amelia Island.