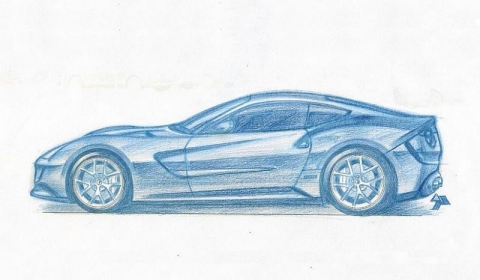 The Ferrari F620 GT is one of the most anticipated cars to premiere at next months Geneva Motor Show. After years of rumours about the 599 successor that long went by its codename F152, more and more definite information is surfacing. The Ferrari F620 GT will have a 6.3 liter V12 with a seven-speed dual-clutch gearbox. The F620 GT is 70kg ligther than its predecessor.
Ferrari F620 GT Performance
The overall performance has long been rumoured to lay anywhere between 680 and 720hp, but various sources now confirm that Ferrari lifted the output of the 6.3 liter V12 to a very respectable 740hp in the F620 GT. The 740hp are transferred to the road via the rear wheels.
Acceleration from 0-100km/h is done in three seconds dead, 0-200km/h takes just 8.5 seconds. That is 0.4 seconds faster than the 700hp-strong Lamborghini Aventador. The top speed of the new F620 GT well exceeds 340km/h.
Ferrari 599 XX
Update: Our Facebook fan Gabriel Cheng suggests the F620 GT has a dry weight of 1,525kg and it overall a compacter and more agile car than its predecessor: The F620 GT compared to the 599 GTB is 49mm shorter, 60mm lower and 20mm less width. It laps the Fiorano race track in 1 minute 23 seconds, in comparison that's two seconds faster than the Ferrari Enzo and one second faster than the Ferrari 599 GTO.