The Honda NSX ‒ also known as the Acura NSX in North America ‒ is one of the most iconic cars ever made by the Japanese carmaker. The NSX is widely praised for not only its performance, but also for its drivability and reliability.
The Honda NSX was once conceived as a car which could rival the best German and Italian cars of those days. This ambition resulted in the New Sportscar eXperimental, hence the name NSX. Development of the mid-engined, rear wheel drive car started in 1986. Quite interesting is the fact the bodywork design was inspired by a F-16 fighter jet cockpit.
As a successful engine supplier in Formula 1, Honda was able to transfer its know-how into a car which also could be used for a daily drive. Formula One driver Satoru Nakajima was involved in the development of the NSX, and so was one greatest F1 drivers to have raced: Ayrton Senna was responsible for fine-tuning the chassis and suspension.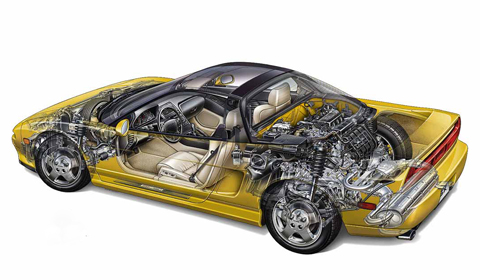 The Honda NSX made its first public appearance in 1989 and production started the following year. The NSX was full of state-of-the-art developments like an anti-lock brake system, titanium connecting rods in the engine, electric power steering system, drive by wire throttle system, and the Variable Valve Timing and Lift Electronic Control (VTEC) system. The Honda was also the first production car to feature an all-aluminium monocoque body.
The first models of the NSX were powered by a 3.0 liter all-aluminium V6 with an output of 270 horsepower and 280Nm of torque. An 1991 Honda NSX could accelerate from 0 to 100km/h in 5.6 seconds, and run a quarter-mile in 13.9 seconds. In 1997 Honda upgraded the engine of the NSX by increasing the displacement from 3.0 to 3.2 liter. The revised engine produced more power, up to 290hp while torque increased to 305Nm.
Eventually sales of the NSX declined to a few hundred vehicles per year worldwide, so production of this remarkable sports car ended after fifteen years. Approximately 18,000 units were produced between 1990 and 2005. In 2007 Honda confirmed a new supercar which would be powered by a V10 engine, but sadly development of this next-generation NSX was cancelled due to economic uncertainties.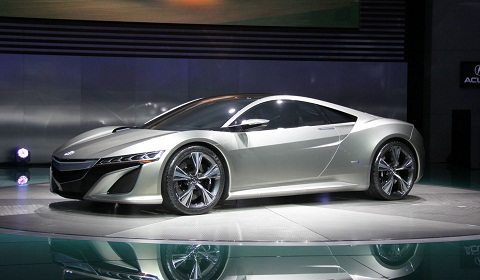 Eventually Honda unveiled the spiritual successor of the NSX at the Detroit Motor Show last January. The Acura NSX Hybrid Concept will be powered via a twin electric motor drive unit with a bilateral torque adjustable control system, twinned with a powerful next-generation VTEC V6 engine with direct-injection and a dual clutch transmission. Or as Honda states: "This car will be like the first NSX, express high performance through engineering efficiency."
Honda has made a video which pays tribute to the first generation NSX and promotes the second generation. Enjoy the video of the Honda NSX showing its past, present and future.