The new Porsche 911 GT3 RSR race cars, still in plain white livery as they arrived from the factory in the last week or two, made their world debut as three US customer teams gave them their first race track test preparing for next month's 60th Anniversary Mobil 1Twelve Hours of Sebring Fueled by Fresh from Florida.
The customer racing vehicles will head into the 2012 season with extensive modifications. The width of the new GT3 RSR has grown by 48 millimeters. Built to conform to the A.C.O. "LM" GTE regulations, they are based on the 911 GT3 RS (type 997) street sports car.
The six-cylinder boxer engine with a four-liter capacity has a mandatory air-restrictor, and generates 460hp and drives the 310 millimeter-wide rear wheels. The diameter of the front wheels has increased by 30mm to now measure 680 millimeters. The Porsche sequential six-speed gearbox is operated via paddle shifts on the steering wheel.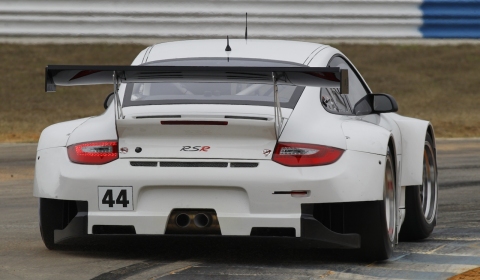 The nose and rear panels are adapted to the flared front and rear wheel arches, as are the door sill and the wheel arch coverings. The aerodynamic setup is complemented by a new ducting of the intake air. Openings in the rear side sections, as known from the turbo variants of the Porsche 911, replace the air scoop on the engine hood, which is very similar to the 911 GT2 RS street sports car.
The four new 911 GT3 RSRs will be competing in the American Le Mans Series. The car can also compete at the Le Mans 24 Hours, the FIA World Endurance Championship, and the Le Mans Series, as well as the International GT Open and in other series and races.