The third new model that Morgan will showcase at the Geneva Motor Show 2012 is the New Roadster 3.7 liter, which uses a new Ford Cyclone six cylinder engine.
The new powerplant offers a smooth and consistent power delivery all the way up to the maximum engine revolutions of 6,850 per minute. The overall weight of only 950kg for this aluminium car spells a power to weight ratio of around 295bhp per tonne. Power delivery is transmitted to the road through a limited slip differential with cone drive.
The six-cylinder engine is linked to a six-speed transmission and offers 280bhp at 6,000rpm and a maximum torque of 352Nm. The sprint from zero to 100km/h is done in 4.9 seconds and the top speed is 225km/h.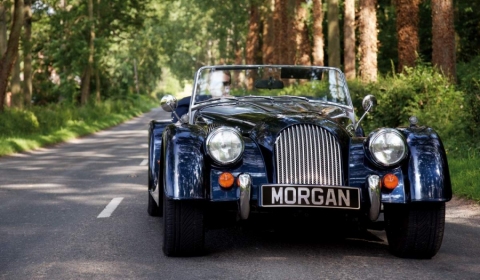 The cockpit offers the perfect driver's environment with plenty of room combined with real leather. The large speedometer and rev counter are fitted into a completely new dashboard featuring electronic warning systems and digital and analogue displays for all engineering functions. There is even a stopwatch to measure your lap time. The instruments and dials are framed in wood and the highest quality materials are used throughout this coachbuilt car.
The convertible roof is easy to fasten and provides a warm secure environment. A customer can also personalise his Morgan Roadster to his individual taste and the choices are virtually inexhaustible.