Alex Smolik, GTspirit representative for Paris and France, went today to the 2012 Rétromobile salon. The event is held in Paris from the 1st to 5th of February. A lot of vintage and classic cars were present, including this incredibly rare and beautiful Bugatti Type 57 SC Atlantic.
Only four models of this car were made in the world. This particular one is chassis n° 57374 and was first sold to Mr. Rothschild in September 1936. It had the exact same color combination as it has today: metallic silver/blue paintjob and a blue leather interior. This car won the 2003 Pebble beach Concorso d'Eleganza.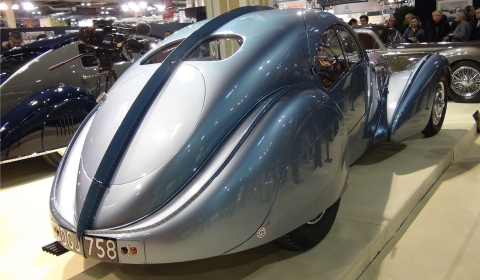 The Bugatti Type 57 SC Atlantic is well known for other reasons. First of all, it's a very rare car: only four exist in the world. The most famous model is without a doubt Ralph Lauren's black one. It is one of the most desirable classic cars, a must-have for any car collector. This explains the price tag of this ca. In 2010, this particular car in the video below was sold at an auction for a price of thirty million dollars.