In late 1953, the Chevrolet Corvette was introduced into the American automobile market. 300 hand-built polo white Corvette convertibles were built for the 1953 model year. This car, became an instant success.
In 2002, a group of automobile engineers designed a Chevrolet Corvette by mixing the legendary 50s styling with advanced C5 technology. This was done to celebrate the 50th anniversary of the Corvette. The 1953 retro Corvette is a re-body of an already existing C5 convertible.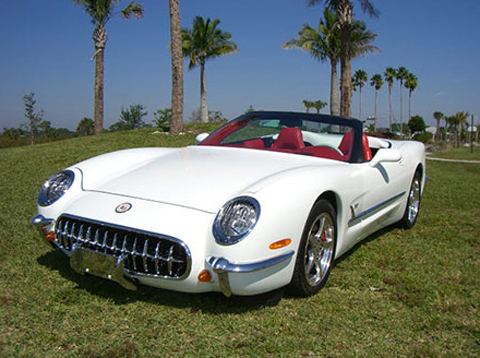 This unique classic was found via Collectorscarworld.com with an asking price of $ 95,000 (€ 73,376). This show car quality automobile has a 5.7 Liter LS1 Engine with 345hp that's already done 11,000 miles.
The new retro-designed package includes a new front and rear fascia, headlights, chrome die-cast grille and bumpers, hood, fenders, rear quarters, inner and outer deck lid, and LED taillights body (except the doors and top) replacing the original parts. Panels are bolted on to the existing attachment points. Chrome die-cast side door spears, brake calipers are painted in red. Leather Interior, Leather Seats, Power Seats, AM/FM CD Radio.
Click here for more information.