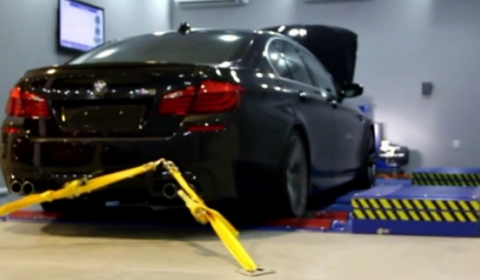 A German tuning company called PP-Performance has performed a dyno run with the 2012 BMW F10M M5 on a Maha dyno. The results were 444 horsepower at the wheel, 553 at the engine, and a 574hp after correction. The maximum torque was 721Nm.
The official figures of the high-revving 4.4 liter V8 engine with M TwinPower Turbo package are a total output of 560hp at 6,000 – 7,000rpm and a maximum torque of 680Nm from 1,500rpm.
The positive difference between the figures is a known behavior when it comes to twin-turbo engines by BMW. Still the car only did 40km on the odometer and is brand new. We are wondering what the figures will be like after 10 to 20,000 kilometers.