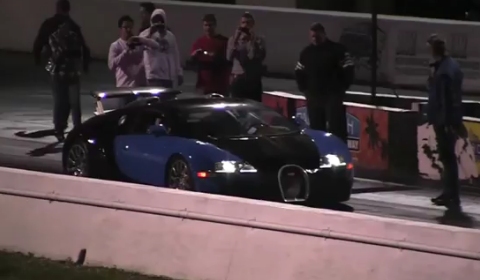 At the Palm Beach International Raceway an owner of a black and blue Bugatti Veyron was coaxed to come over from the road course to make a couple of quarter mile runs against a lightly modified Nissan GT-R.
One the first pass the launch control was not engaged and the Veryon crept off the line running a 12 seconds flat at 137mph. On the next run the Bugatti Veyron did not disappoint, running a 10.1 at 139.4mph with ease.
The Nissan GT-R still pulled off an incredible time of 10.9 at 125.7mph despite being late at the tree lights.
[Via WorldCarFans]