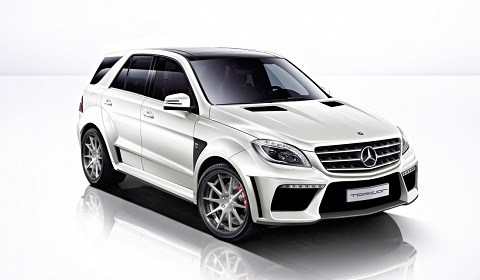 These renderings preview a move into a different marketplace for Russian bodykit manufacturer TopCar. The tuner has began work on the Mercedes-Benz ML63 AMG, the first model outside of the Porsche family tree to receive cosmetic upgrades from the company. Whilst no details have been provided, we can tell you about the different modifications that are proposed for the range topping Mercedes SUV.
The 2012 Mercedes-Benz ML63 AMG was released back in November at the Los Angeles Motor Show. It featured a number of cosmetic upgrades and the same familiar AMG-tuned 5.5 liter V8 biturbo engine with an increased output of 525hp and torque of 700Nm. TopCar have gone a step further with their cosmetic restyling. A new front bumper with LED daytime running lights is the obvious change. This gives greater cooling, presumably for both the engine and brakes whilst at the same time, giving the car a new image.
On top of this there's also a set of flared fender arches with a built in air vent, a more aggressive side skirt, flared quarter panel wheel arches to match the front and a modest rear bumper modification. Finally, there's a set of ADV.1 forged wheels to complete the look. We really like it, it seems to make the car look more elegant, although we would have kept the roof bars. Overall, we think the modifications are meant to make the car resemble a Black Series model.
Let us know what you think in the comments box below. We'll keep you posted when we know more.
[Via WorldCarFans and BenzClub.ru]