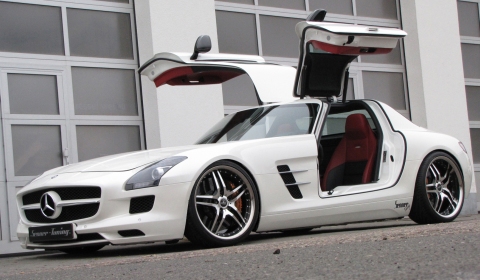 German company Senner Tuning AG has released their program for the Mercedes-Benz SLS AMG. The sports car got a total power increase of 35hp and 40Nm. This is achieved by carefully adjusting the propulsion system with the exhaust system. An air filter kit and exhaust system (+15hp) with throttle control made from the stainless steel were fitted.
The specially made wheels called Corniche Vegas with stainless steel outer bezel and diamond-turned rim star in glossy black from the Aerotechnik house feature the following dimensions 9×20 inch rims with 255/30R20 tires at the front and 11×20 inch rims and 285/30R20 tires at the rear.
A special option 3 KW travel carriage with individually adjustable pressure and traction stage as well as weight-optimized aluminum housing was also installed. The finishing tough is the installation of carbon mirrors.