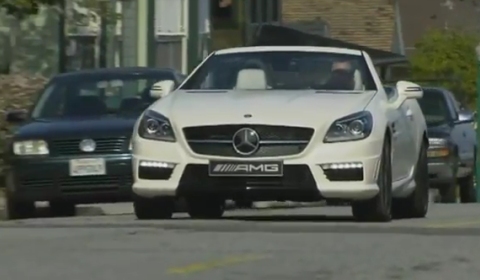 Mercedes-Benz released a series of videos showing the 2012 Mercedes-Benz SLK 55 AMG in action. The sports car marks the third generation of Mercedes-Benz SLK and continues with the two-piece metal folding roof known as a Vario Roof. Also the SLK comes with the option of Magic Sky Control, which turns a glass panel in the roof from transparent to opaque.
The small but powerful roadster boasts a 5.5 liter V8 with a maximum output of 421hp at 6,800rpm and a maximum torque of 540Nm at 4,500rpm. This enables the SLK 55 AMG to accelerate from zero to 100km/h in 4.6 seconds while the top speed is electronically limited at 250km/h.
Special features are a 7G-TRONIC seven-speed automatic with AMG SpeedShift technology, an AMG sports suspension with Direct-Steer system, Torque Vectoring Brakes and three-stage ESP, as well as the AMG high-performance braking system. Interesting is the special exhaust system which is designed to boost the sound when the car is driven in a more sporty manner.