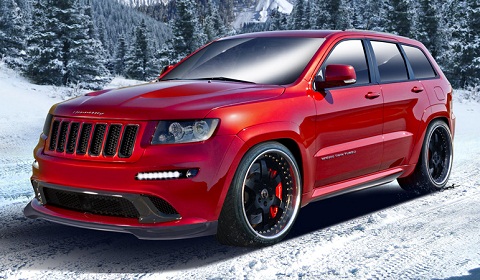 Hennessey Performance have announced details of their latest kit for the Jeep Grand Cherokee SRT8. The twin-turbo conversion makes it one of the fastest SUV's available.
Hennessey have increased displacement from 6.4 liters to 7.0 liters (426 cubic inches). They also added a twin-turbo forced induction system, an upgraded transmission and a torque converter. The result is 805bhp at 5,800rpm and 823lb-ft of torque at 4,000rpm. That's enough to propel the HPE800 from 0-60mph in 3.1 seconds and to give it a 1/4 mile time of 10.9 seconds at 130mph. In short, it's one fast SUV!
Naturally, extra modifications are also included. A set of 15.1 inch Brembo brakes at both the front and rear provide extra stopping power, a lowered sport suspension system fixes any issues with the chassis, lighter 20 inch HPE alloy wheels provide a fresh look, a carbon fiber front splitter helps differentiate the car from stock and a custom leather interior with Alcantara steering wheel finishes it off nicely!
Hennessey Performance will limit production to just 24 examples with pricing starting at $ 235,000 (€ 180,000 at today's exchange rate).
John Hennessey said:
We've built dozens of 600-800hp Jeep SRT8s over the past five years, so we have an existing client base who will want to upgrade the new Jeep Grand Cherokee SRT8 to an even higher level. This vehicle is designed for the performance minded driver who lives in Aspen or Moscow and wants to be the fastest in all weather conditions.