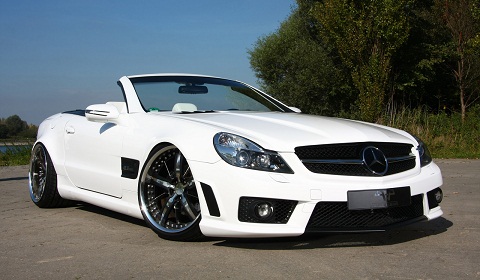 PP Exclusive have unveiled a series of modifications for the R230 Mercedes-Benz SL featuring rims, an electronic suspension module and the interior got some improvements.
PP Exclusive have added a new, TÜV inspected rim named the Majestic. In the pictures you'll see them sized 11×20 inches (with a 3.5 inch outer rim) at the front and 13×20 inches (a 5 inch outer rim), however, they also offer them in sizes between 20 and 23 inches. Dunlop tyres in sizes 255/30 R20 and 305/25 R20 make a perfect combination. To accommodate them, sheet metal has been used to widen the arches by 25mm up front and 55mm at the back. A number of wheel modifications are also available.
An electronic suspension module allows the car to be lowered by 10cm. The controls for this can be found on the steering wheel and the current height status can be seen at any time by accessing it on the instrument panel. A built in an exhaust system made entirely of stainless steel and with four oval-shaped exhaust pipes has also been added.
PP Exclusive have also worked on the interior. The driver and passenger seats have been finished in white Napa leather with black stitching. The wooden parts of the dashboard panel too have been painted in the colour of the vehicle, and in contrast, the sun visors and the roof interior have been finished in black Alcantara. The steering wheel is new too, it has been finished with Alcantara and lacquered in white.