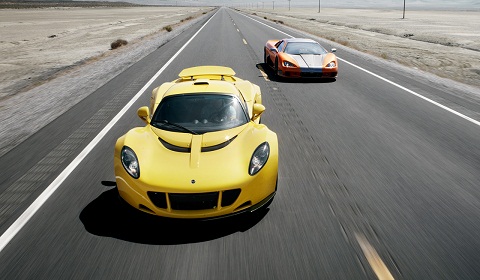 Top Gear Magazine has released a small gallery of pictures from a recent photoshoot they set up involving the Hennessey Venom GT and the SSC Ultimate Aero. As you will see, they even managed to meet up with the brand new Tuatara. Whilst the Hennessey Venom GT is still available, SSC have sold all sixteen Ultimate Aeros and are now focusing on the Tuatara.
The SSC Ultimate Aero has a 6.3 liter bi-turbo V8 producing 1,287bhp at 6,075rpm and 1,112lb-ft of torque at 6,150rpm. Compare this to the Hennessey Venom GT's 6.2 liter bi-turbo V8 producing 1,200bhp at 6,500rpm and 1,155lb-ft of torque at 4,200rpm and you have a healthy competition. Whilst Hennessey have not tested the Venom GT, they claim an estimated 0-100km/h in 2.5 seconds and a top speed of 275mph, whilst SSC are more conservative with their claims of a 0-100km/h time of 2.78 seconds and a top speed of 257mph.
So, would you have either of these cars over a Bugatti Veyron? For the full article, click here.