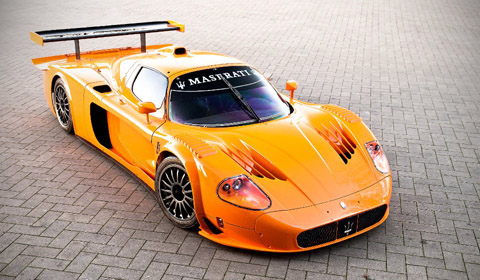 This edition of the Photo Of The Day highlights one of the greatest cars ever made, the Maserati MC12 Corsa.
Developed to signal Maserati's return to racing after 37 years, the MC12 was designed and built on the chassis of the Ferrari Enzo. The MC12 is longer, wider and has smoother curves than the Ferrari Enzo. Production of the Maserati was limited to 55, from which 50 were available to customers, making it far more exclusive than the Enzo (or the Bugatti Veyron and McLaren F1).
The MC12 Corsa is the hardcore variant of the MC12 and has been developed from the MC12 GT1 which won the 2005 FIA GT Manufacturers Cup. The Corsa shares its engine with the MC12 GT1; the powerplant produces 755 horsepower at 8,000rpm, 122hp more than the original MC12. Not homologated for road use or for any racing activity, the Corsa is restricted to private track days.
Only fifteen of these variants were ever made. Three vehicles were produced for testing and publicity purposes and twelve were sold to valued Maserati customers for a whopping € 1 million (US $ 1.47 million in those days). The Maserati MC12 Corsa pictured here is the only one in the world painted Orange.
For a high resolution version of this great shot click here. For more shots visit Philipp Lücke / Automotive Photography on Flickr and Facebook.