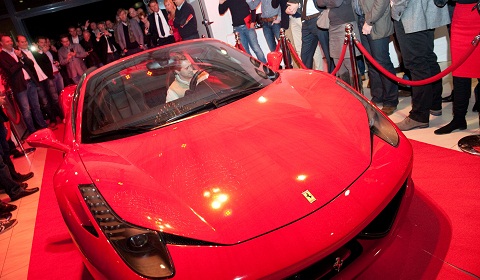 Dutch Ferrari dealership, Ferrari Munsterhuis held their official unveiling of the Ferrari 458 Spider last night. Over 400 guests turned up to the dealership to see the Ferrari 458 Spider literally fall from the sky wrapped in a curtain of smoke. Former Formula 1 driver Christijan Albers was also on hand to help show the ins and outs of the new Spider.
The dealership arranged to have the 458 Spider lowered into the parking lot in a spectacular curtain of fire and smoke. Director and General Manager of Munsterhuis Sportscars, Ferry Enders said:
A beautiful crown on an excellent year for us,t he economic times have fortunately unaffected by our sales, which more than good. The introduction of the Ferrari 458 Spider is for us an appropriate end of the year and an opportunity to the year 2012 directly out of the starting blocks with speed to come.
The Ferrari 458 Spider priced from € 280,949 in Holland. However, if you choose to order one, don't expect to take delivery until mid-2013, the end of the current waiting list. Just like the coupe, the convertible is powered by a naturally-aspirated, direct-injection 4.5 liter V8. It sprints from standstill to 100km/h in 3.4 seconds and the top speed is 320km/h.