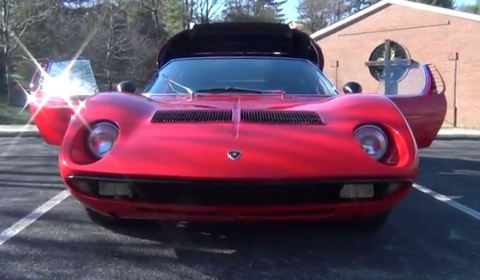 YouTube member Subaruwrxfan had the unique chance to have a ride in a 1969 Lamborghini Miura P400S. He commented on his special ride:
I have the privilege of riding in what many people call the most beautiful car of all time, the Lamborghini Miura. This car is a 1969 Lamborghini Miura P400S with the 'Jota-style' front end. Many thanks to the kind owner for the ride and sharing this incredible experience with me!
Some history on this Lamborghini Miura P400S. Bertone clothed this 170mph car and it went into production in 1967. Sheer performance was only half the story, the balance, traction and cornering power conferred by the mid-engined location put the Miura in another league. This faster S version, which was showcased at Villa d'Este 2011 this weekend, appeared in 1969, followed by an even better faster SV in 1971. It had more power and much improved suspension. The SV lasted just a year, bowing out in the 1972 as the LP400 Countach started to come on stream.