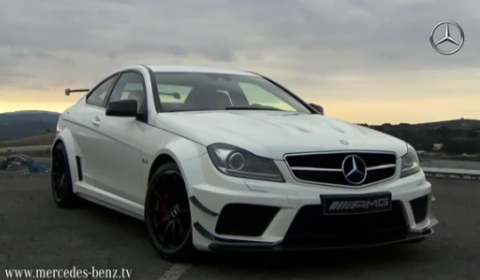 German manufacturer Mercedes-Benz released a new video showing a white Mercedes-Benz C63 AMG Coupe Black Series. The C63 AMG Coupé Black Series is based on the Mercedes C-Coupé (C204) and designed for enthusiasts who are passionate about sports cars which are big on horsepower.
Besides the spectacular and wide bodied styling the Black Series offers a 6.3 liter V8 engine producing 517hp at 6,800rpm and 620Nm at 5,000 rpm. The ultimate AMG accelerates from zero to 100km/h in 4.2 seconds. For stopping power, massive brakes discs were installed, measuring 390mm at the front with six-piston calipers, and 360mm discs at the rear with four-piston calipers.
You can check the video below!