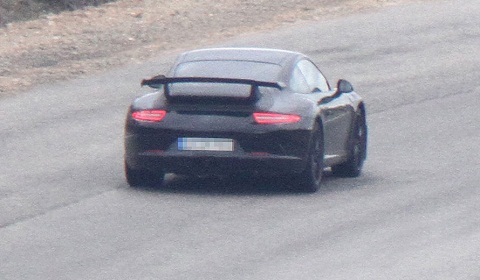 Auto-Motor-Und-Sport spy photographers have caught a Porsche 991 GT3, complete with rear wing, carrying out a spot of on-track testing. The photos reveal an updated look for Porsche's track-biased 911. Purists will be happy that the GT3 retains its rear wing, central exhaust and sporty look.
Porsche haven't just taken the parts from the 997 though. The rear spoiler looks to have been completely redesigned. The full-length, one-piece spoiler we saw on the out-going 997 GT3 has been replaced by a similar fixed spoiler of roughly the same size, but with shorter body attachments. As you'd expect, there's a complete redesign for the front and rear bumpers and a central dual-exhaust.
Expect the GT3 to be more economical whilst also offering more performance when it goes on sale late 2012. The 997 GT3 featured power from a 3.8 liter boxer with 435hp, expect the 911 (991) to come closer to the 997 GT3 RS power figure of 450hp. Weight will be reduced, possibly by around 40kg.
For complete galleries, please head over to Auto-Motor-Und-Sport.