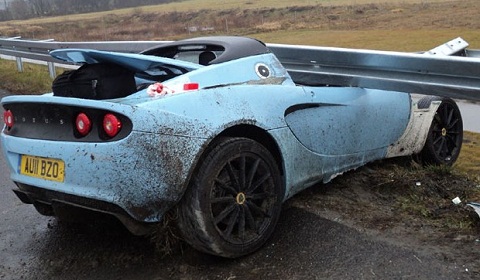 At 9.00 yesterday morning, near Warsaw, an accident occurred involving a Lotus Elise Club Racer on English registration plates. The Elise is thought to be a press car, it's unclear whether journalists were driving it at the time though. Despite the decapitation of the lightweight sports car, no injuries were sustained in the accident.
The accident happened on the Garwolin ring road, about an hour away from Warsaw. The driver lost control of the car in the wet, collided with a Volkswagen and came to rest under the guard rail.
The Lotus Elise Club Racer is one of the lightest sportscars on the market, weighing in at 876kg. It features Eibach suspension springs with Bilstein dampers and power from a 1.6-litre engine producing 134bhp.
Thanks to Mateusz Korsak for the tip!
[Via Gadu-Gadu]